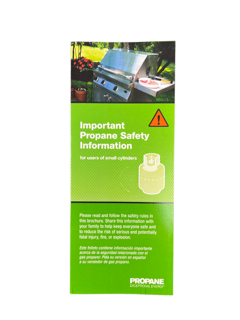 IMPORTANT PROPANE SAFETY INFORMATION [125/pk]
Make Sure Customers Know How to Use and Transport Small Cylinders
This brochure has sections that include steps for your customers to take if they smell gas, how to transport and store of cylinders properly, not to tamper with cylinders or outdoor appliances, testing for leaks, describes odor fade, and disposal of old or damaged cylinders.
A scratch-and-sniff test is also included. The eight-panel, 3 x 9 (folded) brochure fits in a standard business size envelope, or can be used as a self-mailer and can be used for duty-to-warn compliance for these applications.
125/package